When Canadians think of the Pacific Islands, or 'Oceania,' we think of beaches and family vacations. What we do not think of is the next sphere of great-power influence. In May 2016, Cleo Paskal [1] made the case to the Asia Pacific Foundation of Canada for a change of mindset regarding Oceania. Far from being merely a honeymoon destination, Paskal argued that the region is increasingly critical in geopolitical relations. She argued that some countries, like China, understand the new dynamic in Oceania, while others do not—and Canada is among those countries that are out of the loop on this fast-changing frontier.

The theoretical basis of Paskal's argument was the 'Island Chain Defence Theory.' Conceived by former US Secretary of State John Foster Dulles (1953-1959), it maintains that if the West is to geopolitically contain China, it must control three chains of islands in the Asia Pacific, as shown below. The theory is the reason that Taiwan, for example, is of such geostrategic importance.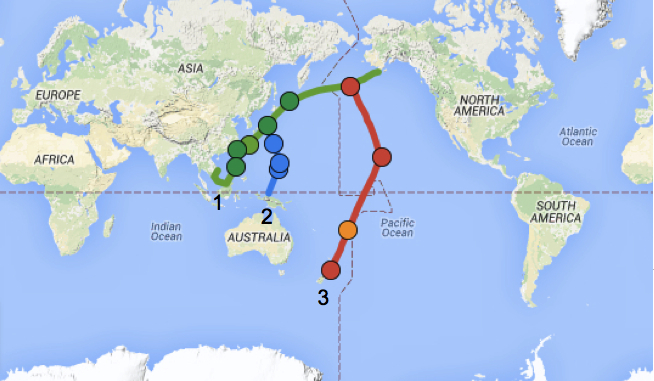 If we start from the premise that these islands chains are of geopolitical significance, then relations with small countries like Fiji become much more important. What seem to be small markets and unimportant allies suddenly assume much larger geopolitical roles.
Through this lens, Paskal argued that recent activity by China in the third chain indicates China's implicit acceptance of the theory. Beijing has been increasing its economic, diplomatic and military engagement with countries along the chain, including Tonga and Fiji. She described Beijing's view of these islands as more than just individual small nations, but collectively as an important factor in China's ability to resist Western containment.
Many of the islands along the chains in the Pacific have geopolitical significance beyond their mere location—several are modern-day colonies of Western states. The U.S., France and the U.K. (all permanent members of the United Nations (U.N.) Security Council and key members of NATO) have territories along the three chains. This means that these Western nations have de facto borders in this area. The fight for influence over these islands becomes even more important, as China is not merely engaging with small islands, but with modern-day Western colonies.
Case Study: Kingdom of Tonga
To illustrate her argument, Paskal discussed the Kingdom of Tonga, a small island nation in the Pacific. Few Western states have a significant diplomatic presence in the country, and the West generally relies on Australia and New Zealand to "manage" geopolitical affairs in Tonga and the wider region. However, Australia and New Zealand's behaviour towards the Tongans (including tied aid and concerns over spying) have alienated Tongan officials and sent them looking for new allies.
Enter China—looking for friendship. Beijing has been on a charm offensive towards Tonga, providing business, immigration, and lots of soft power—including giving every Tongan M.P. a laptop. Despite some local discontent towards Chinese immigrants and shops, the Tongan government is forging closer ties with their new partners in Beijing. The relationship between China and Tonga is mutually beneficial—China doesn't harangue Tonga about human rights while giving it aid, and China gets a strategic ally.
Paskal argues that China is applying this strategy across the whole region. For example, in 2015 Beijing indicated it would help Fiji build a navy base. The goal, of course, is to move the nations of Oceania out of the Western sphere of influence and make them allies of Beijing. Beyond closer economic and political ties within the island chains, China also gains influence at the U.N., as the islands account for 14 votes in the General Assembly.
The Case for Canadian Engagement with Oceania
Canadian economic and diplomatic engagement with countries like Tonga and Fiji is limited. With small consumer markets and macro-economies, Canadian business and political leaders have not focused on the Pacific Islands. 
However, if Paskal's analysis is correct, then the case for engagement with these countries is clear. The region largely speaks English and French, and was West-friendly in the recent past. Canada has compatible economic interests, such as in agriculture, and there are opportunities to accept students to Canadian universities. Regional governments are increasingly connected to the outside world, and are looking for partners. With traditional Western allies having alienated many of these island nations, Canada could move in to forge closer ties.
Paskal also noted that, if all of these reasons aren't enough, then the voting power of the region should be a sufficient case for engagement. With 14 votes in the U.N. General Assembly, the region can be key to Canada's 2020 bid for a non-permanent U.N. Security Council seat. She urged Canadian policy-makers eyeing a return to the top U.N. body to keep these votes in mind as they plan their campaign.   
Rooted in the Island Chain Defence Theory, Paskal advocated for Canadian policy-makers to view Oceania through a geopolitical lens. While much of the Canadian focus has been on China and India, Beijing has increasingly been engaging countries along the island chains. Now Canada, and the West, must catch up.
VIDEO: To view Cleo Paskal's new AP 360 series video by APF Canada, click here.
[1]Associate Fellow, Chatham House, London. Trudeau Fellow, CÉRIUM
Save
Save
Save
Save