In recent months, China has issued new policies to relax control on market access of foreign capital and encourage foreign investors to enter the Chinese market, while at the same time introducing fairer competition in the market and equal treatment of foreign and domestic enterprises. These policies aim to bring more foreign capital to China to support its economic growth and transformation.
Factors Driving the New Policies
China has become one of the top three destinations for foreign investment since 2008, with a total inward foreign investment of US$126B in 2016. However, despite the increase of inward foreign investment over the past several decades, China's growth rate has been slowing down recently, and the total amount of inward foreign investment actually decreased in 2016 compared with 2015 in the chart below. At the same time, China's outward foreign investment has been growing much faster, and the total amount has surpassed that of inward foreign investment for three years since 2014.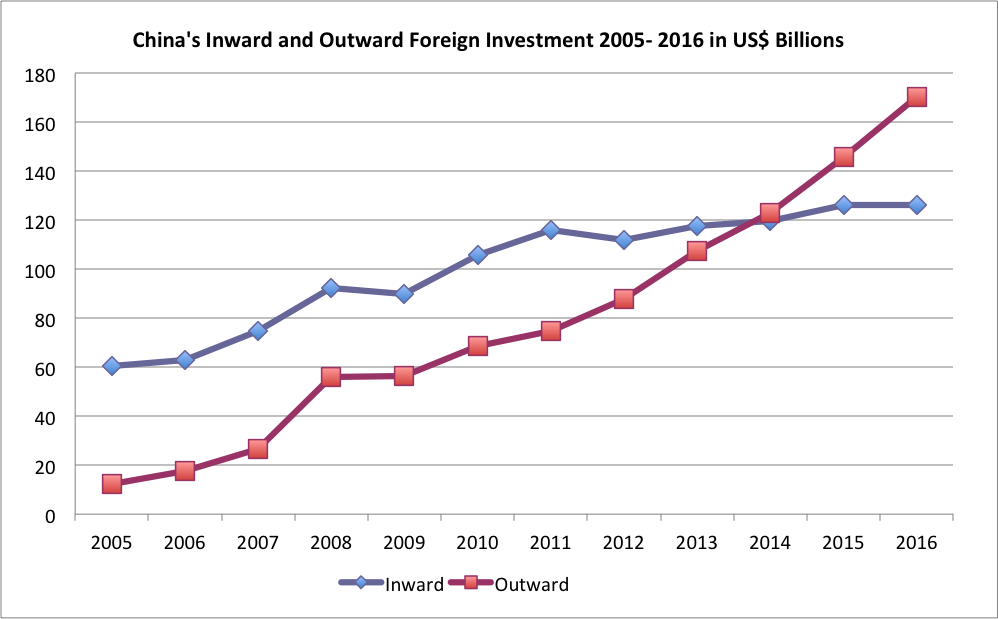 The inward foreign investment has played an important role in China's economic development. As the Chinese economy undergoes restructuring and transformation, more foreign investment is encouraged to enter the service and advanced manufacturing sectors, which in return helps with China's economic upgrading and transformation.
The new policies on foreign investment are intended to keep up China's slowing economic growth, offset capital outflow, and support its technology development and innovation.
Measures on Further Opening up and Actively Utilizing Foreign Investment
On January 17, 2017, the State Council of China issued a "Circular Concerning Measures on Further Opening up and Actively Utilizing Foreign Investment," which lays out new measures to further open up its economy, improve the business environment, and boost foreign investment in the country. The new policy listed 20 specific measures in three areas.
First, China will revise the Catalogue for the Guidance of Industries for Foreign Investment, and further open the service, manufacturing, and mining sectors to foreign investment. China encourages foreign investment to take part in the implementation of its innovation-driven development strategy. Under the "Made in China 2025" initiative, foreign invested enterprises are encouraged to invest in high-end, intelligent, and green manufacturing. At the same time, foreign investors are encouraged to take part in infrastructure construction in energy, transportation, water conservancy, and environmental protection through franchising.
Second, China has indicated that it will enhance the openness and transparency of its investment environment. It has indicated that intellectual property of foreign invested enterprises should be protected. The circular requires equal treatment for foreign and domestic enterprises on business licence and qualification applications.
Third, the circular allows local governments to form favourable policies to support foreign invested projects that can facilitate employment, economic development, and technology innovation. It continues tax or land-use preferential policies to support foreign investment in China's central, western, and northeastern regions.
Revision of the Catalogue for the Guidance of Foreign Investment Industries
China's Ministry of Commerce and the National Development and Reform Commission revised the 2015 Catalogue for the Guidance of Foreign Investment Industries and began soliciting public comments on December 7, 2016. The soliciting was closed on January 6, 2017, and the revised catalogue is expected to go public soon.
The catalogue provides guidance on sectors open to foreign investment and originally divided industries into three types – namely, "encouraging," "restrictive," and "forbidden" for foreign investment. In the revised edition, the industries are divided into two types – "encouraging" industries and industries "subject to special administration," often referred to as the positive list and the negative list.
The revised catalogue reduces the number of restrictive measures from 93 to 62, and relaxes restrictions on market access of foreign capital in services, manufacturing, and mining sectors.
For the services sector, categories entitled to foreign direct investment (FDI) restriction relaxation include bank-type financial institutions, securities companies, stock and investment fund management companies, futures companies, insurers, and insurance intermediate agencies. Categories entitled to FDI restriction elimination include accounting and auditing as well as architectural design and rating services. Categories entitled to orderly and progressive liberalization include telecom services, Internet, culture, education, and transport.
For the manufacturing sector, restrictions will be eliminated on FDI in the production of rail transit equipment and motorcycle and fuel ethanol, as well as on grease processing.
For the mining sector, restrictions will be relaxed on FDI in the development of non-conventional oil and gas resources such as oil shale, oil sand, and shale gas, as well as in minerals and resource industries.
Revision of Laws on Foreign Invested Enterprises
In addition, China revised its laws on foreign invested enterprises (FIEs), effective October 1, 2016. The revisions replaced the previous Ministry of Commerce approval requirements with filing requirements for all FIEs, provided they are not subject to national market access restrictions on the negative list. The revisions build on the practice of national treatment plus the negative list system for FIEs, piloted in four free trade zones in China.
The revisions will shorten the processing time and enhance the certainty of transactions, providing much more convenience to FIEs in China. The revisions also state that China will enforce stricter supervision and inspection on FIE operation after FIEs' investment in China.
Implications for Canadian Businesses
The new polices could mean more opportunities for Canadian businesses. Canadian businesses are strong in financial sectors, innovation, and advanced technology in various fields, all of which are encouraged to enter China under the new policies. An improved and fair-competition environment is also good for Canadian companies in China, as Canadian businesses and investors are known to observe the law and meet high operating standards.
However, to be successful in China, Canadian companies need to have an accurate understanding of the Chinese market and the new policies. They should work closely with Canadian trade commissions, business associations, and other institutions in China to improve that understanding. They also need to be aware of their own strengths and identify the right industries to invest in.