China faces a daunting challenge: it houses 20 per cent of the world's population while only having seven per cent of the world's water resources. In addition, only 67.7 per cent of China's surface water is deemed safe for human contact and over 75 per cent of its ground water is classified as poor or very poor. In fact, China's water pollution problem is just as serious as its hazardous smog.  Adding to the challenge, the already scarce, useable water sources are unevenly distributed geographically, resulting in water shortages in over half of China's cities, especially in the northern regions.
In order to better understand China's water problems, we tracked the data of China's 27 provinces and four direct-controlled municipalities over a four-year period from 2013 to 2016 to identify China's performance trend and gaps. 
Understanding the Raindrops Across China
China's water quality is divided into five grades depending on its environmental function and protection targets (Chart 1). Most often, water quality measurements are pooled into grades one to three, which is deemed drinkable, or grades four and above where it is deemed unsafe to drink.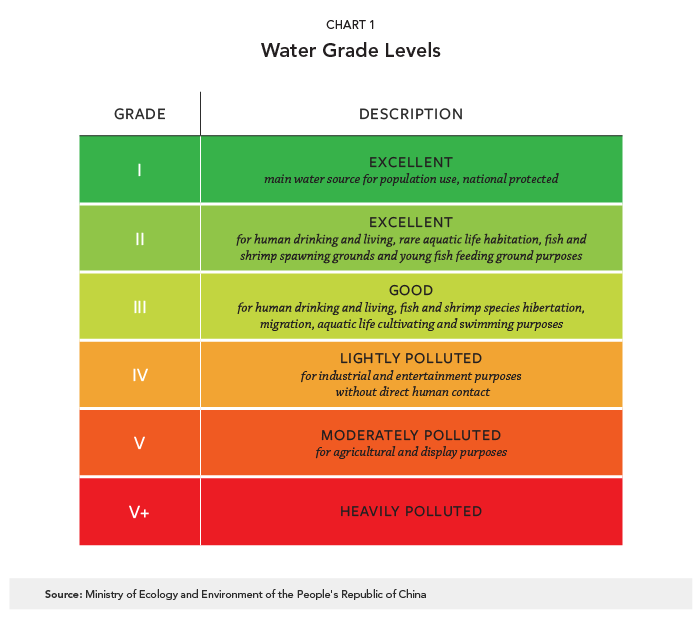 China gets most (63 per cent) of its drinking water from surface water sources. And according to 1,940 surface water monitoring stations surveyed in China's 2016 environmental report, almost a third of China's surface water is polluted to the point that it is unsafe for human contact (Chart 2).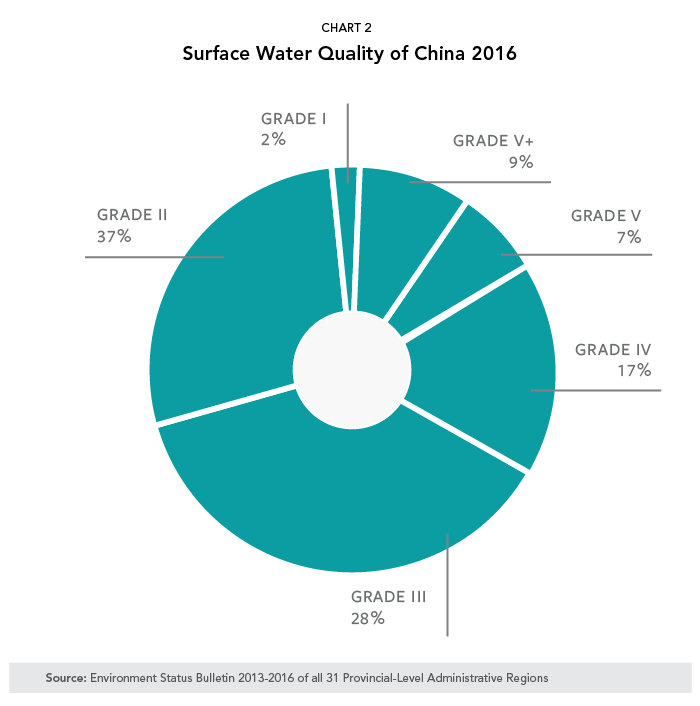 To break this chart down even more, we ranked all 31 data points according to the percentage between grades one and three and grades four and above (Chart 3). At first glance, we see 100 per cent of surface water is safe to drink in the provinces of Tibet and Ningxia, both located in the less populous and less wealthy northwestern region of China. Conversely, more than half of the surface water is undrinkable in the worst performing provinces and cities (Beijing, Shanxi, Tianjin, Liaoning and Shanghai). Perhaps not coincidentally, these more populous areas are concentrated in the economic epicentres of eastern and northeastern China.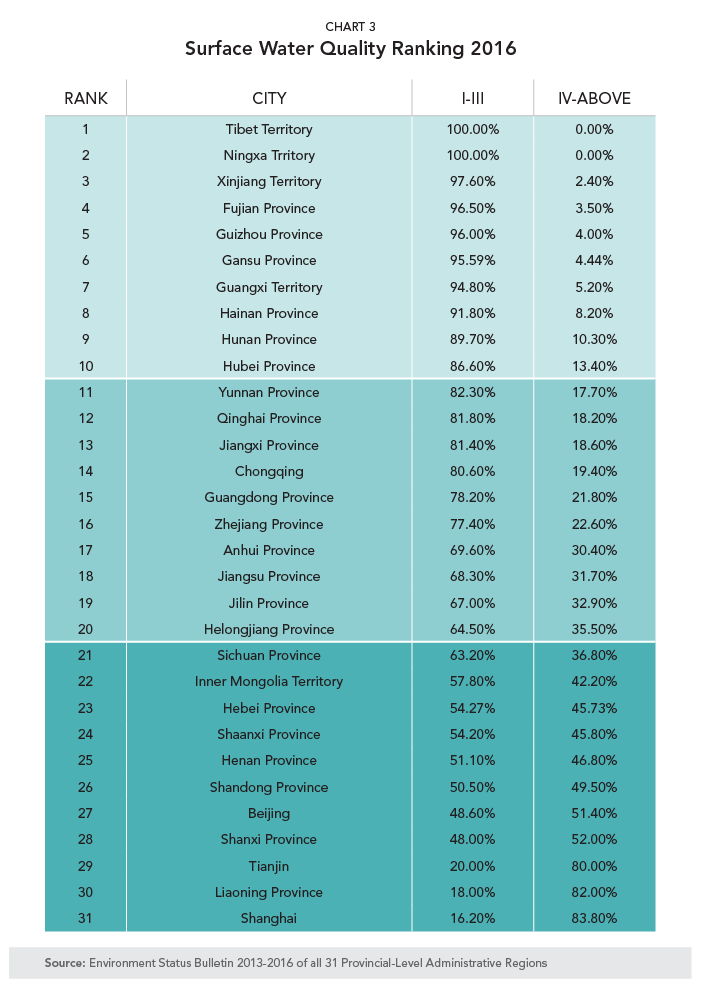 The Upstream and Downstream Battle Since 2013
While a few notable provinces have made strides in improving water quality since 2013, the rest of the country is stagnant (Chart 4). The northwestern provinces of Qinghai and Shaanxi have been most successful, increasing the number of monitoring stations registering potable water by 36 and 23 per cent, respectively. On the opposite end of the scale, a few provinces are failing to keep their heads above the polluted water. Water quality in Hainan, Inner Mongolia Territory, Jilin and Liaoning has actually worsened since 2013. As for Shanghai, its water quality worsened by more than 34 per cent in just one year from 2015 to 2016.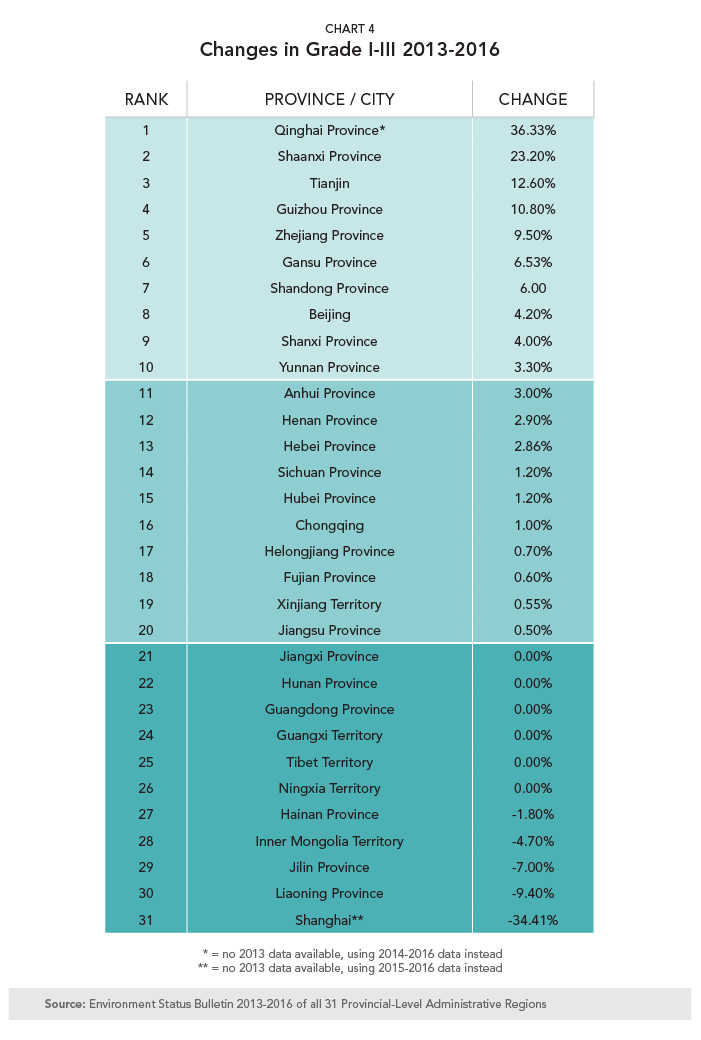 Wastewater: The Carrot and the Stick
In addition to surface water quality, another key indicator of water pollution is wastewater. Wastewater is an unintended outcome of industrialization and urbanization (Chart 5). Among the 31 major cities, the top five for wastewater discharge volumes are, not surprisingly, the most economically developed and densely populated areas of Shanghai, Beijing, Guangzhou, Chongqing, and Tianjin. Those five cities alone discharged over 7.6 billion m³ of wastewater in 2016. That is enough to fill Lake Superior, the world's third-largest freshwater lake, 633 times over. And that is only 16 per cent of China's total wastewater discharge volume. This begs the question: is the country capable of solving such a daunting problem?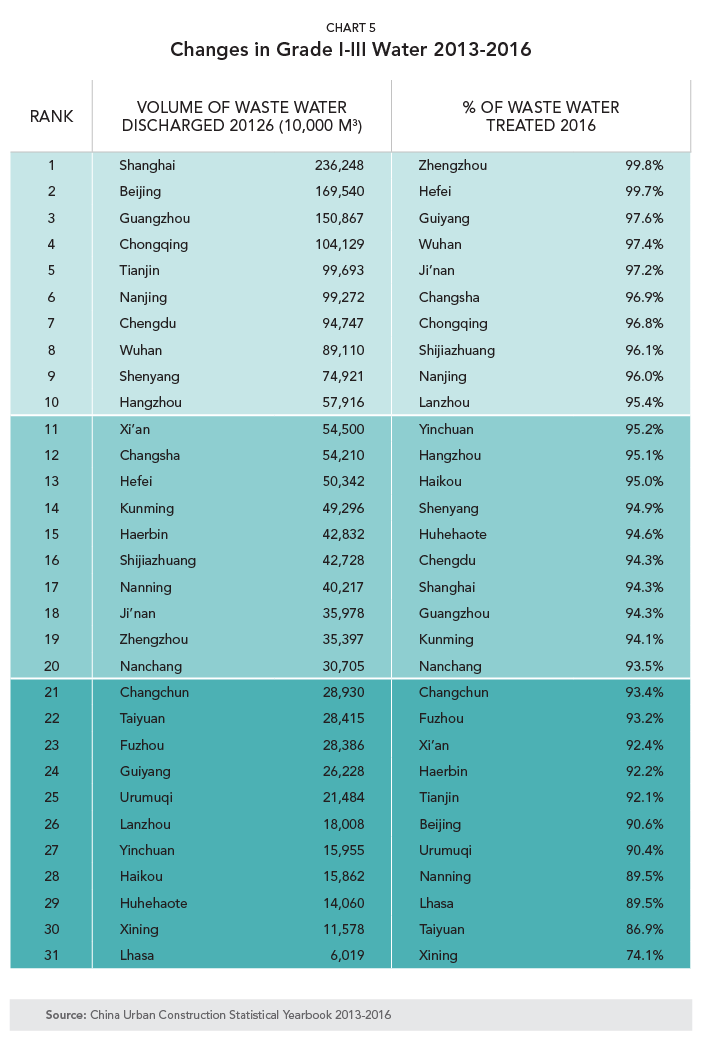 While the scale of the problem is difficult to fathom, there is a glimmer of hope when looking at the percentage of wastewater treated in the 31 major cities (chart 5). In 2016, all cities treated more than 90 per cent of their wastewater with four exceptions, Nanning, Lhasa, Xining and Huhehot. However, these numbers can misguide us as treatment quality and methods differ across the country, making these numbers cause for further investigation.
Building the Dam on Water Pollution, Branch by Branch
"With air, you stop pollution at the source, and the blue skies come back instantly," said Ma Jun, director of the Institute of Public and Environmental Affairs. But unlike air, water has its own cycle, which in a way makes the problem much more resistant to short-term and small-scale solutions. Mitigating the lethal pollution that flows throughout China's entire water system will require a comprehensive solution.
The backbone of China's water improvement aspirations is the 2015 Action Plan on Water Pollution Prevention and Control, also commonly referred to as the "Water Ten Plan." Ambitious goals of this plan include making at least 93 per cent (currently at 67 per cent) of all urban drinking water sources to actually provide potable water by 2020. In 2014, Premier Li Keqiang set aside US$330 billion to tackle the issue of water pollution specifically. Following the national movement, provincial and city governments are also investing in cleanup efforts.
China's water quality problems are not confined to its own borders, but reach far beyond the Great Wall into the world's oceans, seafood and eco-systems. With the advancements made this decade, there is no better time for China, and the rest of the world, to ride the tidal wave of development in renewable energy, clean tech and environmental stewardship to improve water quality. With Canada's expertise in these areas, especially water remediation and treatment technologies from British Columbia and Ontario, this provides a perfect opportunity for Canadians clean-tech firms to meet China's need.
To gain a better understanding of the environmental protection performance of China's 31 'Tier 2' cities, visit our China Eco-City Tracker interactive data visualizer.


Also in APF Canada's new China Eco-City Tracker web series:
Click here to download a digital chapbook of the entire series, or read our blogs online, below . .

• China Eco-City Tracker: Web Series Introduction
• China Eco-City Tracker: A Clearing in the 'Airpocalypse' for China
• China Eco-City Tracker: The Upstream Battle for Drinkable Water
• China Eco-City Tracker: Tackling Trash Troubles with New Policies, Penalties
• China Eco-City Tracker: Lessons From the Danes and the Finns
• China Eco-City Tracker: Navigating the 'Valley of Death': Financing and Commercializing Canada's Cleantech Industry
• China Eco-City Tracker: China's Clean Tech Commitment
• China Eco-City Tracker: China's Clean Tech Decision-making