Last week marked the end of the largest democratic election in human history, with more than 600 million Indians casting their vote over the course of five and a half weeks, re-electing Prime Minister Narendra Modi and his Bharatiya Janata Party. This election was in sorts a re-run of 2014, with Modi once again defeating Rahul Gandhi and the Indian National Congress – albeit with a larger margin and with the highest voter turnout of any Indian parliamentary election.
An election with much at stake . . .
While PwC projections show India's GDP per capita rising from the current US$6,600 to US$18,300 by 2040 (a staggering 177% per cent increase), the economy was still top of mind for Indian voters. Even as India's economy grew by 27.5 per cent since 2014, two of the BJPs economic policies – the bank note demonetization and the introduction of the GST – drew steep criticism from the public and the opposition leading into the elections. Both policies were criticized for punishing members of India's lower to middle class who largely conduct their business in cash and don't have access to bank accounts. But military and defense appeared to be top of mind for the BJP, as policies related to national defense were front and centre in the party's manifesto released shortly after the Pulwama terrorist attacks and heightened military tensions with Pakistan. And while Indians under the age of 25 now make up more than half of the country's population, jobs numbers leaked in January indicate it is getting increasingly harder for young Indians looking for work. Youth unemployment reached 18.7 per cent for men and 27.2 per cent for women in urban India this year, while unemployment in the country overall topped 6.1 per cent, the highest level since the 1970s. These sobering statistics contrast sharply with the 10 million jobs Modi pledged to create during the 2014 election campaign, jobs that failed to materialize. As more than 18 million young Indians are expected to enter the job market every year for the next 20 years, Modi will find it increasingly difficult to ignore the limited job prospects of the country's youth in his second term as prime minister. Meanwhile, women and LGBTQ rights, the rise of Hindu nationalism, the role of social media, and a plethora of other issues were at stake during this historic election.
India's Lok Sabha, or lower house, elections offered up 545 seats for grabs by the BJP, the INC, and thousands of other smaller regional parties registered throughout the country. A majority government requires 272 seats and the BJP alone won 303 seats – before seats from affiliated coalitions were factored into the results, which pushed the BJP's total to 353 seats. The INC won 52 seats, five more seats this time around compared to 2014. With its own coalition alliances, the INC won 92 seats in total, 26 more seats than in 2014. INC leader Rahul Gandhi, who contested from two ridings this year, something that is permitted in India under the 1951 Representation of People Act, lost his seat in the historic INC stronghold of Amethi, Uttar Pradesh to the BJP, but won a seat in the riding of Wayanad, Kerala. The BJP's victory also marks the first second-term win for a non-Congress government in the history of Indian parliamentary elections. The turn-out rate for the elections was over 67%, another all-time high for an Indian parliamentary election.
As the reality of a BJP re-election begins to sink in around the world, most will welcome the stability that a majority government will bring. For Canada, however, the re-election of the BJP will be a test to see if Canada can pull off a relations recovery mission with the Indian government. 
Canada-India relations during PM Modi 1.0
The BJP's re-election presents an opportunity for Canada to warm the chill in relations with India that began with a fumbled overture toward deeper economic engagement early last year. Despite his announcement of four cabinet ministers of Indian heritage, Prime Minister Justin Trudeau's missteps during his 2018 India trip, including questionable wardrobe choices and a critical misreading of the Khalistani separatist issue, delivered up little more than cold shoulders and mirth during the troubled trip. Khalistan separatists advocate for a free and independent Punjab, and have at times used violent means to forward their agenda. Trudeau's attendance at various Khalsa Day parades in Canada celebrating organizers of the movement, along with the presence of a convicted Khalistani extremist at a dinner in New Delhi hosted by the Canadian High Commission, drew the ire of Prime Minister Modi and Punjab Chief Minister Amarinder Singh. At the same time too, the Canadian government's commitment to pursuing 'progressive' free-trade agreements has to date been a non-starter for Indian negotiators. The inclusion of clauses related to environmentalism, labour, and human rights as part of a free-trade deal, along with India's insistence in protecting certain sectors like agriculture, may continue to drive a wedge in these critical talks.    
How Canada's elections could shape relations with India
While negotiations toward a Comprehensive Economic Partnership Agreement (CEPA) through which Canada could have gained US$6-15 billion in free trade with India have been put on hold, there is still a strong chance that India will feature prominently as a foreign policy issue in Canada's own federal elections this fall. Trudeau, New Democratic Party leader Jagmeet Singh, and Conservative leader Andrew Scheer all recognize the importance of maintaining relations with India and understand the gains Canada could see from a free trade agreement with the world's most populous democracy.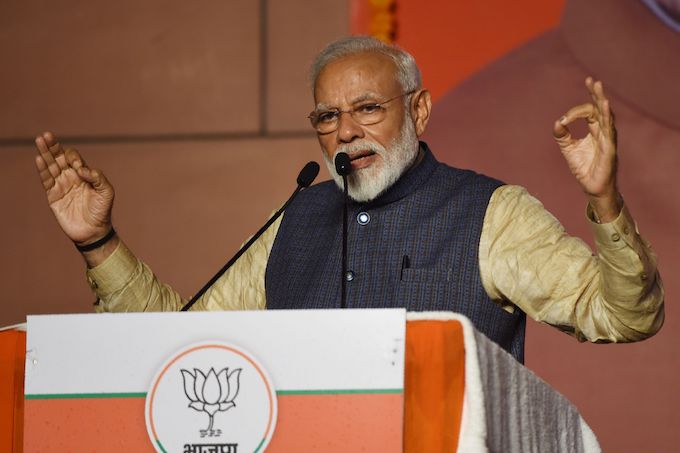 As Modi assumes his second term as prime minister and Canada gears up for its own elections, both Trudeau and NDP leader Singh will need to clearly outline their stance on the Khalistan separatist movement. For Singh, a practicing Sikh, this is especially crucial as he earlier refused to categorically denounce the Khalistani extremists behind the 1985  Air India bombing that killed 329 people, including 268 Canadians. And while Trudeau in his visit to India said his government does not to support separatist movements within Canada, the government's removal last month of the word 'Sikh' from Canada's 2018 Report on the Terrorism Threat to Canada (ostensibly to "eliminate terminology that unintentionally impugns an entire religion") doesn't appear to have helped Trudeau's case, as the move prompted negative reaction by sections of the Indian government. Conservative leader Scheer, meanwhile, made his stance somewhat clearer in his 'recovery mission' to India seven months after Trudeau's visit in February 2018, saying, "We stand for united India."
But why India?
As Canadians have witnessed over the past five years, we can no longer accept the status quo when it comes to international trade. Recent events like Brexit, increased nationalistic sentiments surrounding trade in the U.S., Canada's largest trading partner, and the overall disruption in global trade with the U.S.-China trade war at the forefront shows that the need for a trade diversification strategy has never been stronger. Herein India could play a key role. There are many factors that support a pivot toward India: An economic growth rate of over seven per cent, it's GDP of over US$2.6 trillion, its sizeable youth population, its rising GDP per capita, and the shared traditions of democracy and rule of law, to name a few. Modi has already expressed an interest in Canadian oil and gas as energy solutions for his country of 1.3 billion, but beyond energy, huge opportunities exist for Canadian businesses in other key sectors such as clean tech, agriculture, ICT and real estate.
In the meanwhile, business-to-business and people-to-people exchanges will continue between India and Canada – and need to be further encouraged – as Indian students pursue higher education in Canada and Canadian companies continue to sell to Indian consumers. Post-secondary enrollment by Indian students at Canadian universities and colleges rose over 140 per cent between 2012 and 2016, the number of Indian tourists visiting Canada reached nearly 300,000 in 2018 and has increased 60 per cent since 2014, and Canadian exports to India have also risen 33 per cent since 2014 to total over C$4.2 billion in 2018. This is an impressive and strong base to build upon.
As the dust finally settles in New Delhi, the onus is now on Ottawa to continue pushing for clear and open communications with Indian counterparts. As Modi rides the highs that come with being re-elected with such a strong majority, normalizing relations between the two countries as soon as possible will ensure that Canada can also take economic advantage of this new-found confidence in Modi and the BJP, and get closer to signing a CEPA.
The views expressed here are those of the author, and do not necessarily represent the views of the Asia Pacific Foundation of Canada.