People who were expecting a close race in India's May 2019 national elections were disappointed: Prime Minister Narendra Modi and his Bharatiya Janata Party (BJP) ran away with it, winning by an even larger margin than in their upset victory in the 2014 national elections. The BJP won 303 seats, a majority of the 545 seats in the Lok Sabha (lower house), easily beating their main rival Rahul Gandhi and his once-powerful Indian National Congress party, which took only 52 seats. When all the votes were counted, it confirmed that the election was the largest in human history, with more than 600 million people participating in a process than spanned five and a half weeks.
The lead-up to the election saw raised military tensions between India and Pakistan and strong nationalistic sentiment in response to terrorist attacks in the state of Jammu and Kashmir. Coming into his second term, Modi has established himself as a polarizing Hindu nationalistic leader who will have to address the economy and job creation on top of ongoing concerns put forward by Indian farmers growing frustrated by inadequate financial support.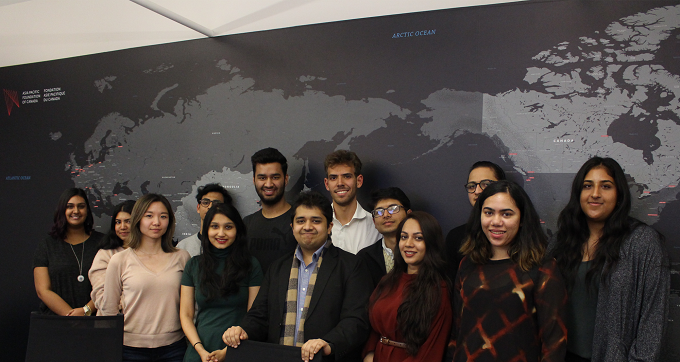 From March 2019 to May 2019, the Asia Pacific Foundation of Canada (APF Canada) convened a group of 16 Vancouver-area university students who were tasked with monitoring media and expert coverage of the election and sharing key insights and findings with the Canadian public through social media. Their coverage spanned a wide range of interests, such as: the participation of women, both as voters and as politicians; the rival parties' plans for addressing youth unemployment and under-employment; the role of social media in the election, including misinformation and fake news; and, many other topics.
Some of the insights and findings from our India Election Watch can be accessed through the links below.
Our Coverage on the Indian Elections
Featured Blog:
Asia Watch Coverage:
Visit our Asia Watch page to read stories on the Indian election:
What next India? (May 24, 2019)
Women still 'missing' in India's national election (May 22, 2019)
India's polluted cities head to the polls (May 10, 2019)
Our Tweets on India: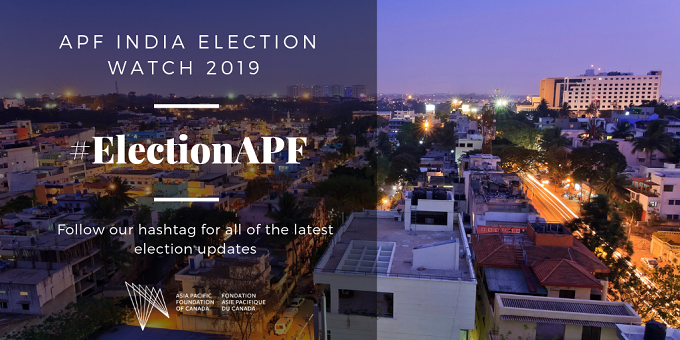 Election Watch India - Curated tweets by AsiaPacificFdn
Our Recommended Reading:
"India Election Watch," provided by the University of Melbourne.
Nirvikar Jassal and Pradeep Chhibber, "India in 2018: Crises of Institutional Legitimacy and Gender," Asian Survey, Vol. 59 No. 1 (2019): 85-97.
Paul D. Kenny, "Regionalism and the Rise of the Populist Far Right in India." In Populism and Patronage: Why Populists Win Elections in India, Asia, and Beyond (Oxford, Oxford University Press, 2017).
Sangeeta Mahapatra, "How Social Media will Impact the 2019 Indian General Election," London School of Economics, January  11, 2019. 
Manmohan Singh, "Modi's India; India's Economy," The Economist, June 24, 2017.
Iain Marlow, "It's All About Modi as India Prepares for Mammoth 2019 Election," Bloomberg, December 12, 2018.
Amit Ranjan, "Partition of India: A Reaction Against 'differences'?" In Partition of India: Colonial Legacies (London: Routledge, 2018): 21-40.
Adam Ziegfeld, "Electoral Systems in Context: India." In The Oxford Handbook of Electoral Systems. Edited by Erik S. Herron, Robert J. Pekkanen, and Matthew S. Shugart, (November 2017).
Our Thanks
We would like to acknowledge the following people who assisted in providing guidance and resources to our Election Watch team:
Ms. Amar Nijhawan, Project Specialist, APEC-Canada Growing Business Partnership, APF Canada
Professor Adam Jones, UBC Okanagan (for granting permission to use his photo images).