The Running Actress, a pet project from award-winning actress Moon So-ri, addresses some of the struggles that Korean actresses face as they age by highlighting her own experiences competing for leading roles in films only to be passed over for younger actresses, despite her own celebrated career. Moon's attempts to woo directors on the strength of her merits is set against the backdrop of her bearing the burden of the family's chores, something a lot of working women can relate to. Moon, who won Best New Actor at the Venice International Film Festival in 2002 and has enjoyed a celebrated career since, here tries her hand at directing in what is a self-portrayed fictionalized biography. 
The three-act film opens with Moon (playing herself) being rejected from another role for a film she had high hopes for, with her advancing age being the central reason behind the rejection. At the time of filming, Moon would have been in her early forties, considered by many in the industry the age of expiration for actresses looking to star in leading roles. Increasingly in South Korea, the go-to anti-aging remedy involves plastic surgery. This desire to maintain a youthful appearance has lead South Korea to become the plastic surgery capital of the world, averaging nearly one million procedures a year in a society where 86% of women believe appearance is important according to a 2015 Gallup Korea poll. For Moon, however, the thought of plastic surgery was long a non-starter. Prior to the spate of recent movie rejections that have shaken her career confidence, Moon prided herself on the fact that she has been able to perform in many critical leading roles based on her acting chops, and not her appearance (she is often praised for her role in the film Oasis where she played a woman with cerebral palsy). Being suddenly rejected for film roles because of her age, and hearing from male directors that her age defines her beauty, we learn in The Running Actress that Moon has developed an anxiety about her ability to stay in the industry, and has even begun to contemplate going under the knife to be taken seriously and remain relevant.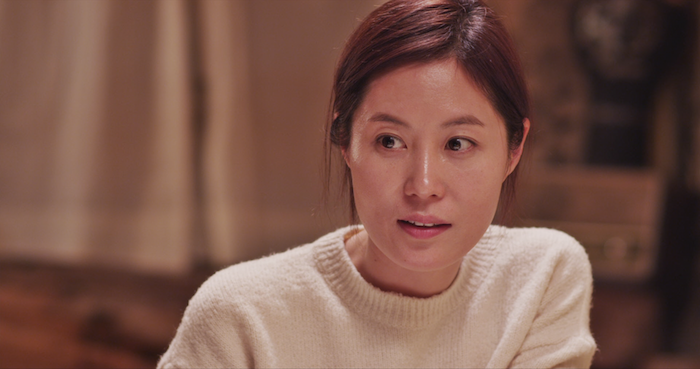 In the film's second act we learn that advancing age is not the only barrier keeping Moon from "having it all." This chapter of the film unfolds on a normal day for Moon, with her juggling through a series of family chores, sorting out bank loans, visiting her mother-in-law, and arranging meetings with film directors – all things that a Hollywood actress would have delegated to hired help. The camera work and narration follow a simplistic and linear pattern, and yet still manage to fully convey the underlying anxiety that Moon faces. The film's cinematography evokes a documentary-style quality by assuming an eye-level angle on the actress's often unembellished face. And Moon humorously addresses several uncomfortable social encounters – such as running into a male film director and being coerced into having drinks with him – that seem to be recurrent in her attempts to remain an actress.
The movie carries the heaviest weight on the story that is not told: Moon's glittering public image as a successful actress. As Moon's four-year old daughter watches TV, she comes across scenes of her mother making a glamorous, red-carpet appearance. The young girl points at the TV with pride and joy, but Moon responds by abruptly turning the TV off and replying: "That is not your mother, this is your mother" – voicing the contradiction between her glamorous public image and her underlying personal anxiety. She approaches her privilege as a social celebrity with a sense of self-pity. For her, fame has resulted in increased extended-family duties rather than more roles in movies, as Moon is seen using her fame to get her mother a discount on dental services.
"I am not doing much lately," Moon repetitively suggests to a director over dinner when asked what she's been up to . This despite being exhausted both mentally and physically from fulfilling her duties to her family as a single mother. While it may not be the case for celebrities in the West, the legacy of Confucianism remains prominent in modern Korean society, which obligates women to perform the double-duty of taking care of their own family and their in-laws, regardless of how busy they are with work and a career. This double-standard makes it even harder for Korean women to excel in the workforce; in a 2013 study by the Economist magazine, South Korea ranked the lowest in the Glass Ceiling Index among all OECD countries, and Moon's film is an example of such phenomena existing beyond the world of ordinary working women in South Korea.
As a compilation of three short acts, The Running Actress still provides its audience with a sense of natural flow and continuity. Moon's professional and personal struggles in the first two acts develop into a philosophical discussion on artistic merit in the film industry embedded in self-reflection throughout the final act. Moon, as a prominent actress who established her career through her powerful acting skills, views her fame as a byproduct of her artistic pursuits. However, after speaking with rookie actress Lee Seo-yeong (Jeon Yeo-bin) in a chance encounter at a funeral, it becomes apparent to her that the younger generation of actresses are placing fame before art in their acting careers. Moon, bravely and adventurously, chooses to challenge this new trend in her directorial debut by framing a debate around the value of "true art" versus the narcissism of fame for its own sake.
What Moon So-ri has presented in The Running Actress is a swift reality check for those unfamiliar with the lifespan of a Korean actress. Voluntarily or involuntarily, the careers of these celebrities are regarded as quickly consumed entertainment with the remains left decaying in the rise of the next cultural commodity. Today, the popular romance between beauty, fame, and flashing lights drives celebrities to produce a form of commodified art. The film's Korean title, "An Actress, Still Is," probably conveys Moon's manifesto the best – it is a discussion on the "serious artistic merit" of an actress and whether that merit is lost today given the hyper-competitive nature of the industry. Not afraid of disclosing her personal vulnerability on camera, Moon shows her audience the true intimacy and inner reflection a film can contain and deliver.
The Running Actress is screening Thursday, October 4 at 9:45 p.m. and Friday, October 5 at 1:30 p.m. at International Vilage 9. For more information and the VIFF 2018 festival guide, visit the Vancouver International Film Festival website at www.viff.org
The views expressed here are those of the author, and do not necessarily represent the views of the Asia Pacific Foundation of Canada.