What began in China as a youth-driven social movement to celebrate being single has now morphed into a shopping holiday that makes Black Friday look amateurish.
Every Nov. 11, on Singles' Day, shoppers across China take to their phones and computers to scour e-commerce sites for deals on goods they desire. They place their orders, sleep and wait for the parcels to arrive the next day.
In the world's second-largest economy, this shopping holiday originally created to celebrate or console singles has exploded. This year, Singles' Day sales on the e-commerce platform Alibaba surpassed US$25B, making it the world's most lucrative shopping day.
The social context behind the genesis of Singles' Day itself is fascinating (think millennial relationship anxiety and retail therapy). But for this post, we are particularly interested in the consumer infrastructure that makes US$25.3B in daily sales possible and the opportunities that it presents to Canadians.
From Celebration of Singlehood to Black Friday on Steroids
There are many stories in circulation about the origin of Singles' Day which became a popular social phenomenon and celebration across China during the 1990s. What we know is the date Nov. 11 (11/11) was chosen because it has four numeral ones, which work as a nifty metaphor for singles linking with each other to become a pair.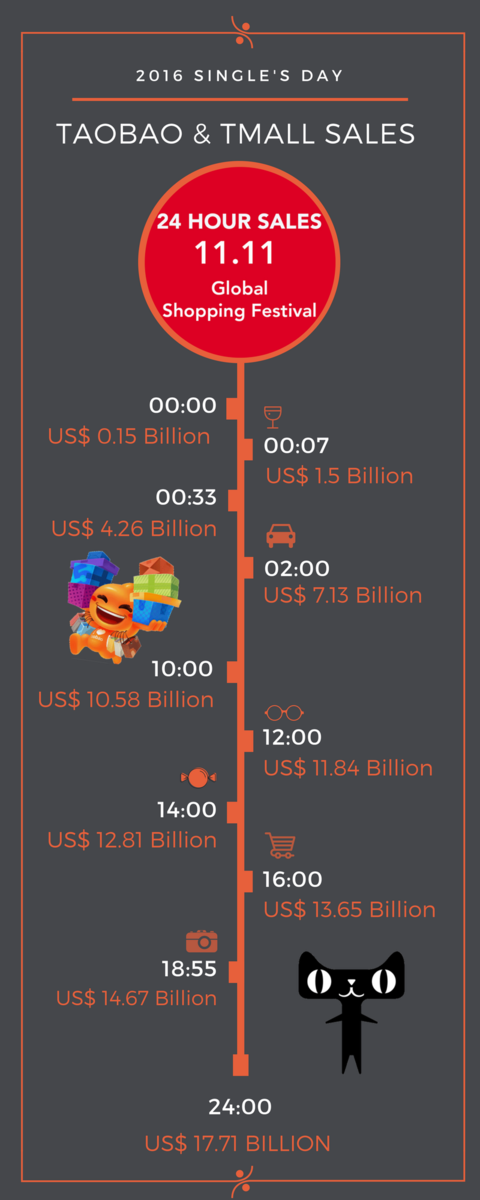 Jack Ma's Alibaba capitalized on the zeitgeist in 2009 by declaring Singles' Day a "holiday" in order to boost sales during a down season for its e-commerce platform, Taobao/T-Mall. Their slogan that year was "No significant other? You can still go online and shop!" The campaign was an absolute hit. The year after, Ma successfully reinvented and marketed the celebration as a day to shop online and treat yourself to something nice. With that he broadened his customer base to all consumers, regardless of relationship status. Singles' Day has since become a national shopping holiday like no other.
While other e-commerce platforms, most notably JD, and offline retail stores also have a piece of Singles' Day sales, this holiday is chiefly associated with Alibaba. On Singles' Day in 2016, Alibaba broke its record, processing US$17.8B in transactions. That figure was more than 40 per cent higher than the total sales revenue during Black Friday and Cyber Monday in the US for the same year, according to Euromonitor Research.
Alibaba broke its record again with a whopping US$25.3B in sales during this year's Double-11 shopping frenzy.
What Makes Singles' Day Possible in China? 
Three things have made this e-commerce sales tsunami possible: a young and increasingly affluent middle class, the availability of e-commerce platforms couched in broader fintech/social media systems allowing for the collection of big data, and inexpensive and efficient delivery logistics.
A Young, Increasingly Affluent Consumer Base
Over the past decade, the number of young, middle class consumers in China has grown.  Their willingness to shell out on online retail platforms has made the country one of the world's fastest-growing consumer markets. Here are some key figures:
Despite overall slowing economic growth in China, new consumption in the country is expected to expand by US$1.8T by 2021, boosting the total to US$6.1T. That projected growth rate is equivalent to adding another consumer market the size of Germany's to the Chinese economy.
Approximately 80 per cent of young adults in China's large cities shop online and the share of e-commerce is expected to increase from anywhere between 24 and 31 per cent by 2020.
By 2020, the number of upper-middle-class and affluent households will double to 100 million. At that point, they will account for 30 per cent of all urban households, compared with 17 per cent today and only 7 per cent in 2010.  The buying power of this cohort will then make up 55% of Chinese urban consumption.
An Innovative Business Model that Brands and Promotes Convenient Lifestyle
As online shopping demand grows, Chinese e-commerce tycoons such as Taobao, Jingdong, and Sunning have evolved to become efficient and nimble enough to ensure it is met. No longer do these companies simply collect cheap commodities in massive warehouses to shop to consumers. Today, e-commerce companies develop their own technologies and have expanded their services to make online consumption easier and faster. Recent data shows over 10 million stores are now open on Taobao, attracting nearly 507 million users.
Most importantly, these e-commerce platforms are woven together with other lifestyle applications, including messaging apps and online wallets, which make online shopping easier for consumers as well as providing e-commerce companies with big data. For instance, Alibaba and Tencent (which has a partnership with Jindong) owns Alipay and WeChat, used by 520 million and 889 million users, respectively. Alipay and WeChat contain various lifestyle functions such as messaging and e-payment which makes online shopping easier.
Chinese e-commerce players also leverage e-commerce services with key social media platforms. For instance, your friend sends you a WeChat text to recommend an item. You can check out the reviews and pay for the product with WeChat wallet, WeChat's e-payment system.
All these integrated consumption ecosystems have big data implications. With a system that is akin to an amalgam of Amazon, Paypal, Uber, Google Maps, and more, the big data collected provides a more complete profile of consumers to these e-commerce giants, allowing them to fine tune their marketing campaigns.
Sight set to the Future: Delivery Drivers to Robots
Of course, none of this would be useful if the deliveries didn't come in time or were too expensive. In China, delivery services are reliable and extremely affordable. Seven major logistics companies dominate the Chinese market and are capable of dealing with the flood of parcels mainly thanks to cheap labour. In large part, this has been the reason why e-commerce has been so successful in China: customers don't have to pay $88 for Amazon Prime to have next-day delivery. Instead, they pay about $4 for overnight deliveries.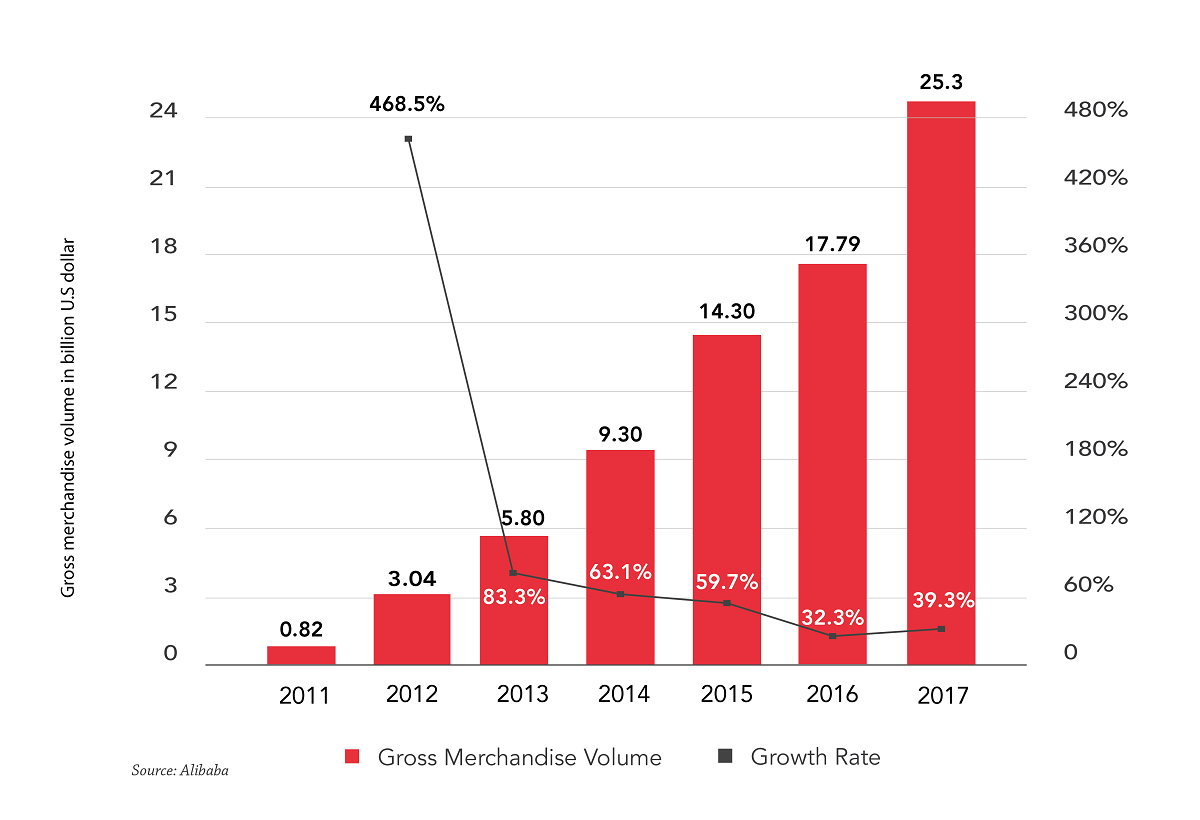 Singles' Day Growth on Alibaba, 2011-to-2017

However, cheap and abundant labour won't always be available. As the Chinese economy grows and elevates more low-income people into the middle class, it will be increasingly difficult to find a workforce for manual labour, like parcel delivery. The heads of these e-commerce ventures are aware of this and have started investing heavily in the tools of the Fourth Industrial Revolution, such as automation, Artificial Intelligence (AI), or Internet of Things (IoT), to remain competitive amid rising labour costs. The Chinese government deems AI a priority and is committed to creating strong supporting infrastructure. Alphabet's Eric Schmidt warned the U.S. that China is expected to surpass America's lead in the field within the next five years.
In this context, Chinese logistics companies have shown long-term vision and intent to maintain low delivery costs through the integration of AI in their operations. Since last year, most of the logistics companies in China have established and operated their own smart logistic centers. Cainiao, for instance, uses robots called "Little G" for the final legs of parcel delivery and JD hopes to replace some of the forklift operators in its warehouses by the end of this year, according to the Economist. These two companies also plan to dispatch driver-less trucks for delivery within the next three years. A few days ago, Alibaba even showcased drones delivering parcels to islands.
A Globalized Strategy
Our hot take: Singles' Day will be a "thing" in Canada within the next few years.
Singles' Day has already become a noticeable phenomenon outside China for both consumers and business owners. A Forbes article just made a case that U.S. retailers should follow China's lead and "embrace" Singles' Day over Black Friday.
Alibaba already offers international sales through Aliexpress, in which customers outside China (including Canadians) can purchase affordable Taobao goodies. Other third-party agents such as Superbuy or CNstrom, both endorsed by Alibaba, can facilitate Singles' Day splurging outside China as well.
Further, we say that Singles' Day is going to become a phenomenon in Canada because these e-commerce giants have already floated plans to operate here – and this is a great opportunity for Canadian small and medium sized businesses (SMEs).  Alibaba has already established a Canadian headquarters in Toronto, where Jack Ma appeared alongside Prime Minister Justin Trudeau to tell 2,500 Canadian businessmen (mostly in startups and SMEs) to take advantage of the Taobao opportunity at the Gateway '17 Conference. The CEO of T-Mall said Alibaba would establish a special section for foreign business owners to organize some sort of a trade show to help them connect to 1.38 Chinese consumers. He offered incentives such as complete assistance with international shipping and customs and occasionally, even free shipping.
Canadian brands are already extremely popular in these e-commerce platforms. The story about how 90,000 Nova Scotian lobsters were sold on Taobao in one day positioned the Chinese e-commerce market as a modern day El Dorado. But unlike El Dorado, Taobao is a very real opportunity for Canadians and Singles' Day offers the best opportunity for both buyers and sellers here to experience the scale and intensity of this powerful online marketplace.
The views expressed here are those of the author, and do not necessarily represent the views of the Asia Pacific Foundation of Canada.