Indonesia is one of the hardest hit countries in Asia by COVID-19. After confirming the first two cases on March 2nd, cases surged to 9,511 by April 28, with 773 deaths. The capital of Jakarta and its suburbs – housing around 30 million people – is at the epicentre of the outbreak, with over half the cases. But the virus has also spread to every province of the archipelago state. The unusually high fatality rate of 8.1 per cent, among the highest in the region, most likely reflects that the real number of infections is much higher than reported – considering that Indonesia has the lowest testing rate in the world, conducting only 62,000 tests for its 260 million citizens (British Columbia, with 5.1 million residents, has tested more than 80,000).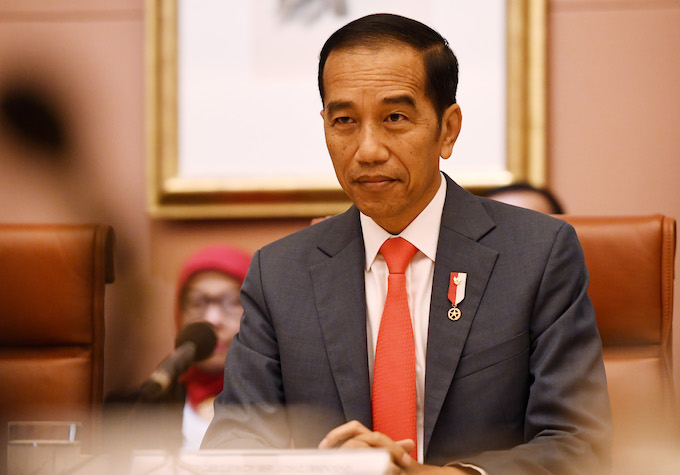 Indonesian President Joko 'Jokowi' Widodo on February 10, 2020. | Photo: Tracey Nearmy - Pool/Getty Images
COVID-19 poses challenges on all fronts for Indonesia. Conservative estimates project that its 2020 GDP growth rate has been slashed by half to 2.5 per cent, and the World Bank puts it close to 2.1 per cent with severe impacts for the country's tourism and manufacturing sectors. The pandemic also poses a threat to the struggling health-care system, ill-prepared from the beginning with chronic shortages of protective equipment (PPE), hospital beds, and doctors. Front-line health workers bear the brunt of these shortages, with at least 40 dying  while treating COVID-19 patients. Under these circumstances, the government headed by President Joko Widodo – popularly known as Jokowi – has grappled with balancing economic concerns and public health, particularly when it came to handling Indonesia's largest holiday migration over the month of Ramadan.
The risks of the Ramadan 'homecoming'
For Indonesia, with the world's largest Muslim population, the month of Ramadan has great religious significance. Healthy adults fast from dawn until dusk, breaking their fast with an evening family meal, and nightly prayers, often in mosques hosting large congregations. Other traditions include visiting relative's graves and extended family, or going on vacation. Over Ramadan, many Indonesians, especially migrant workers, return home – a practice called 'mudik,' meaning 'homecoming' – ahead of the Idul Fitri holiday, this year celebrated on May 22 and 23, marking the end of fasting. In previous years, nearly to 20 million people participated in mudik.
Experts fear mass migration in the coming weeks will accelerate the spread of COVID-19, especially from the millions exiting the Greater Jakarta Region. Provinces reported new cases connected to recent returnees throughout March, and increasingly called on the central government to ban movement in and out of virus 'red zones,' especially the capital. A study by the University of Indonesia also estimated that without stricter measures like movement controls, Indonesia could see a drastic spike in COVID-19 cases by May, potentially surpassing one million and causing over 100,000 deaths. However, these calls went unheeded by the central government, which only banned mudik for government workers, the army, and police personnel.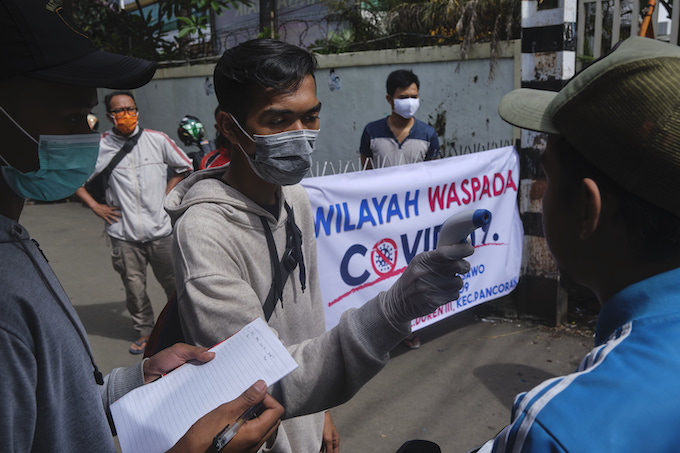 Under mounting pressure from provinces receiving 'home-comers' from Jakarta and other high-risk regions, and increasing calls from public health experts to curb COVID-19 spread, Jokowi finally announced on April 21 a ban on mudik, effective between April 24 and June 1st. The president cited a Transportation Ministry survey showing that 24 per cent of respondents still intended to travel home, as the reason to finally impose a ban on mudik. The ban suspended all domestic air, sea, land, and rail passenger travel, but only to and from COVID-19 red zones (declared by central or provincial COVID 19 task forces) or jurisdictions that had already implemented large-scale social restrictions. Roads remain open but monitored by police and military checkpoints.
Policy fallout and the cost of preventing infections
Pundits criticized President Widodo's delayed action on mudik, pointing out that many people had already left virus hot spots like Jakarta. The Transportation Ministry estimates 900,000 have left Jakarta already and returned to their hometowns. On the other hand, a public health expert estimated that with strict implementation, the ban will prevent 200,000 new cases across the Greater Jakarta Region and Java island.
It is not surprising that the impacts of COVID-19 on Indonesia's economy kickstarted the Ramadan exodus earlier than usual, as more people returned to their home villages after losing their jobs in urban centres, mainly the capital. In Jakarta alone, over 1.2 million formal and informal workers have been laid off or furloughed due to the virus.
The mudik ban will be deeply felt by low-income and slum residents – almost 40 per cent of Jakarta's inhabitants – who already struggle to make ends meet and no longer have the possibility to return to their family, the last safety net for many. Jakarta has seen a sharp increase in homelessness and hunger, as unemployed small traders and daily-wage workers remaining in the city can no longer afford rent or food. Moreover, banning mudik will impact the already battered transportation sector as passengers numbers plummet even further than before.
Red tape impeding rapid response
Jokowi's COVID-19 response has been guided by his single-minded focus on economic growth and pro-poor policies, both major components of his political platform. Through the first three months of 2020, his government eschewed stringent movement controls and a ban on mudik citing their dubious enforceability and certain economic cost, especially for low-wage earners.
Instead, President Widodo focused on shoring up the economy through multiple stimulus packages, injecting much needed funds into the health-care system and allocating close to C$10 million to expand social protection programs distributing cash and food to low-income Indonesians. The relief package also includes increases to allowances in work-for-cash and employment insurance schemes, and electricity subsidies for low-income households.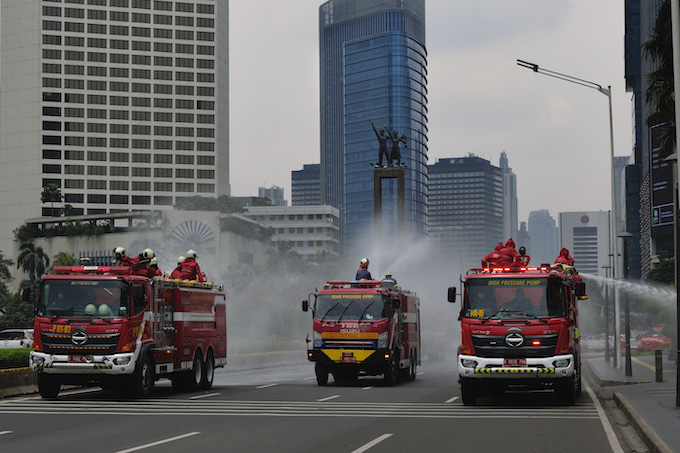 The reticent attitude toward a mudik ban was also justified by cabinet members claiming that it would only overwhelm the government now obligated by law to provide for every impacted resident, whereas allowing individuals to return to the safety of home could better secure their wellbeing. Analysts also believe that Jokowi, with his brand of moderate Islam, shied away from this policy over concerns of looking anti-Islamic, a criticism he has faced before.
It was not until early April, facing surging case numbers and a rising death toll, that Widodo relented to calls for more stringent plans to slow the spread of COVID-19. He issued new regulations allowing jurisdictions at any level to implement "large-scale social restrictions" (or 'PSBB,' the acronym in Bahasa) and declared COVID-19 a "non-natural national disaster." However, the policy was harshly criticized by provincial governors – particularly Jakarta's – for requiring PSBB plans to be approved by the Ministry of Health. To date, Jakarta and more than 10 regional administrations, mainly on Java and Sumatra islands, have received permission to enact the new regulatory plans.
Aside from fighting COVID-19 infections, Indonesia's ongoing challenge will also be delivering social protection schemes over a protracted period of time. This is no small task in a vast archipelago country with approximately 24 million living under US$1 a day and 60 million vulnerable to backsliding into poverty. The country's infamously inefficient bureaucracy and chronic corruption issues around social safety net programs further compound the difficulty.
The difficult balance of economy vs public health
As with most countries around the world, Indonesia faces the difficult conundrum of curbing the spread of COVID-19 without scarring the economy any more than it has to. The Indonesian government's concern over minimizing and preventing socioeconomic harm from the abrupt loss of livelihoods claimed by the pandemic is not unwarranted. Sadly, the delayed government action, especially over banning mudik, is likely to be costlier in the long term, exacerbating the spread of COVID-19 and subsequently, the country's economic recession. As Canada and other developed countries emerge from the throes of the pandemic, they should support countries like Indonesia on all fronts – from public health response to direct assistance to their vulnerable populations. Effective assistance for Indonesia, which has been one of the drivers of regional economic growth, will be necessary for rapid recovery of the global economy, as well as for humanitarian causes.