A group of powerful Chinese business leaders came to Canada last month for an eight-day trip to connect with Canada's corporate and political elites, including Prime Minister Justin Trudeau. The group, referred to as the China Entrepreneur Club (CEC), is made up of the top 50 Chinese firms with combined annual revenues of some C$585 billion.
The group's last stop in Canada was Vancouver, British Columbia. The Asia Pacific Foundation of Canada, together with the Government of British Columbia and AdvantageBC, hosted a roundtable with the CEC and B.C. business leaders to discuss trade opportunities between Canada and China, especially related to clean and mobile technology, and consumer goods such as seafood, wine, and agrifood products. The roundtable proved a success. And yet, one opportunity that was largely overlooked was two-way trade in services, an easy win for Canada.
Canada-China Two-way Trade in Merchandise
Whenever Canadians think of trade between Canada and China, merchandise trade usually comes to mind first. In 2015, Canada-China two-way trade in merchandise added up to almost C$86 billion. This was eight per cent of Canada's total two-way merchandise trade for the year. Although eight per cent may seem small, China is Canada's second largest trading partner after the United States.
Looking closer at the statistics, more than three-quarters of the two-way trade in merchandise is actually imports from China into Canada. The top imports are electrical or electronic machinery and equipment, machinery and mechanical appliances, furniture, toys, clothing, vehicles, and articles of iron, steel, or plastic. The rest is what Canada exports to China, such as wood, canola seed, minerals, fertilizers, machinery and mechanical appliances, and seafood.
Even though trade with China is a significant part of Canada's economy, there is still a big deficit in merchandise trade. The total value of trade has been increasing over the years, but the gap between Canadian exports to China and Chinese imports into Canada has been growing, as can be seen in the infographic below.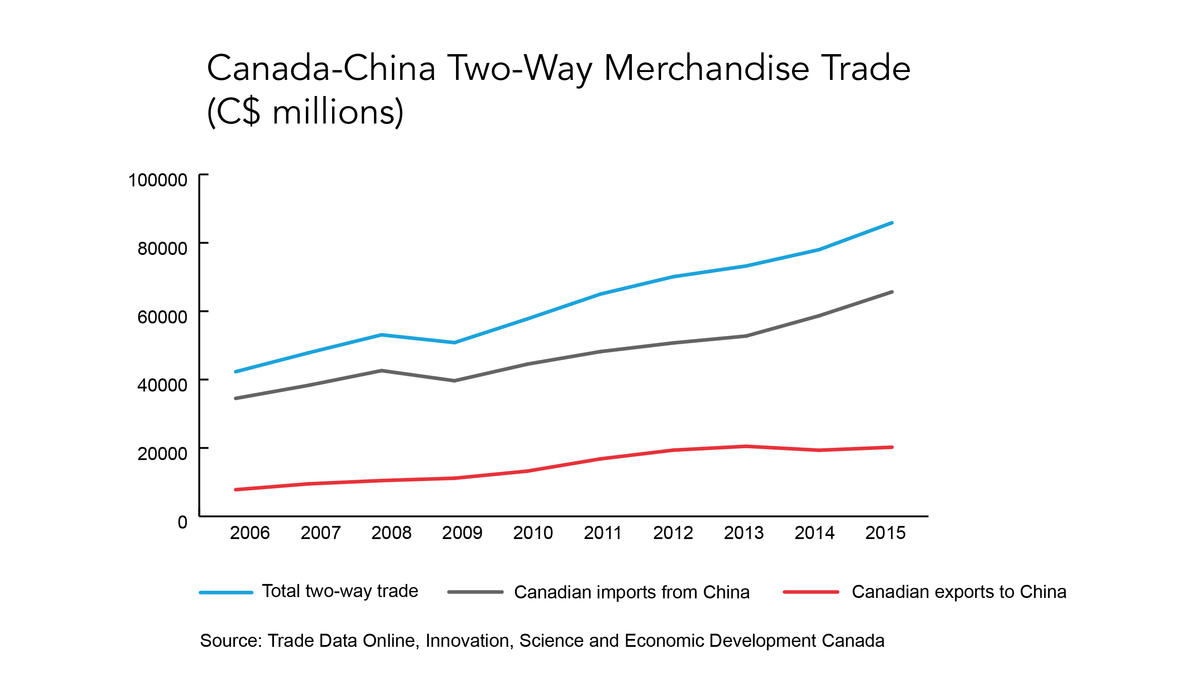 Services Trade: Canada's Lucky Charm
Another type of trade that is not often discussed is services trade between Canada and China. Two-way trade in services, although not as much as two-way trade in merchandise, amounted to C$4.6 billion in 2014. Compared to two-way merchandise trade, services trade between Canada and China is much more balanced. In 2014, C$2.3 billion in services was exported to China from Canada and C$2.2 billion from China to Canada.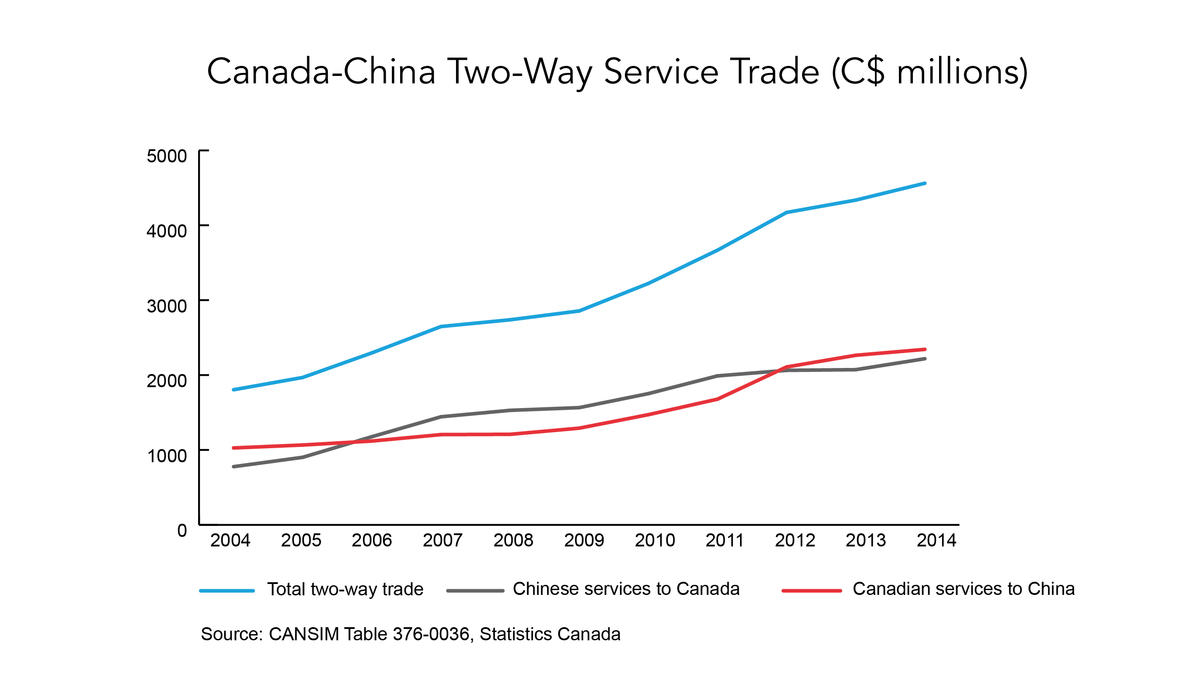 While trying to export more goods and products to China, Canada can also increase its services trade with China to have a more balanced trade relationship overall. Already, Canadian service providers have an immense amount of potential to collaborate more in services with China. They are by far the largest part of Canada's economy, accounting for close to 70 per cent of Canada's GDP and 13.6 million jobs. With renewed engagement between Canada and China, more opportunities are expected to open for Canadian service providers.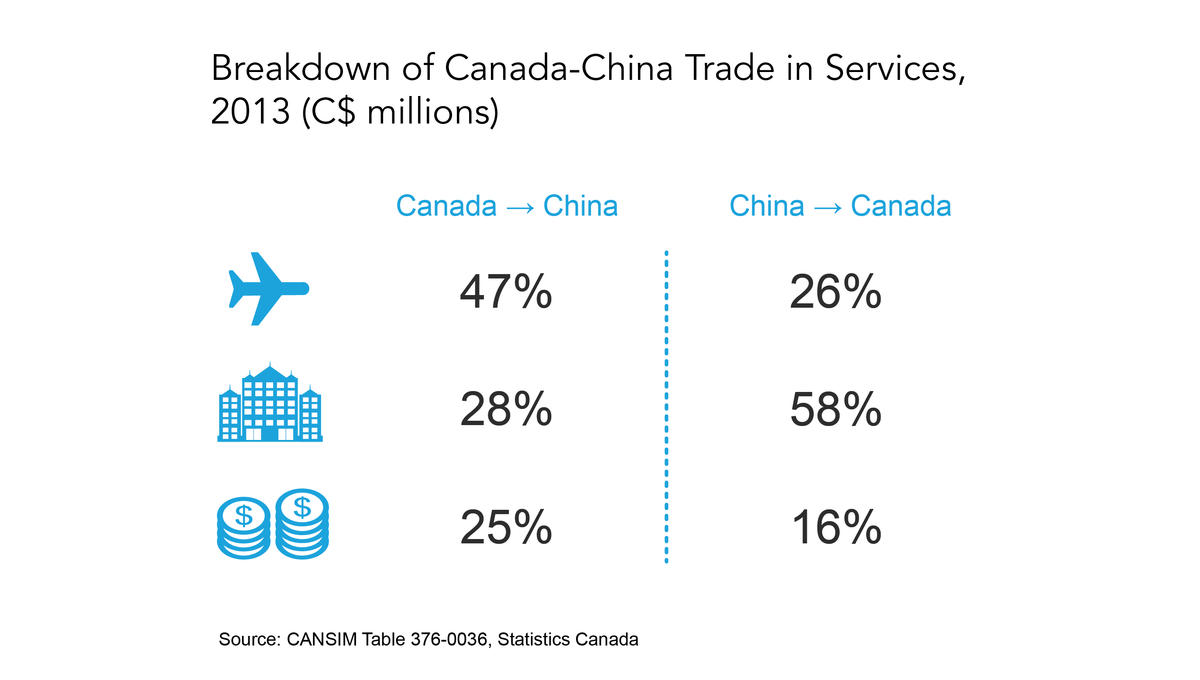 Travel Services
Travel services are the largest type of service that Canada provides to China, with 47 per cent of all services in 2013 coming from travel services. These services include expenses incurred by individuals visiting Canada, such as payments for food, lodging recreation and local transportation. Passenger fares for international travel are not included.
In the coming years, travel services may continue to be the top type of service provided by Canada to China. A new lifestyle survey from HSBC indicates that young Chinese consumers prefer to spend their hard-earned money on travel rather than shopping. Already, more Chinese are coming to Canada to enjoy its beautiful scenery and friendly people. So far each month in 2016 has seen more Chinese tourists compared to each equivalent month in 2015. As well, in July of this year alone, more than 100,000 Chinese, or around one-fifth of the total number of Chinese travellers that visited in 2015, travelled to Canada. This number is expected to increase after agreements made during Chinese Premier Li's September visit to Canada declared 2018 as the Year of Canada-China Tourism and announced two-way visits would be doubled by 2025. As the number of tourists to Canada from China increases, the number of new opportunities available for Canadian businesses in tourism will also rise.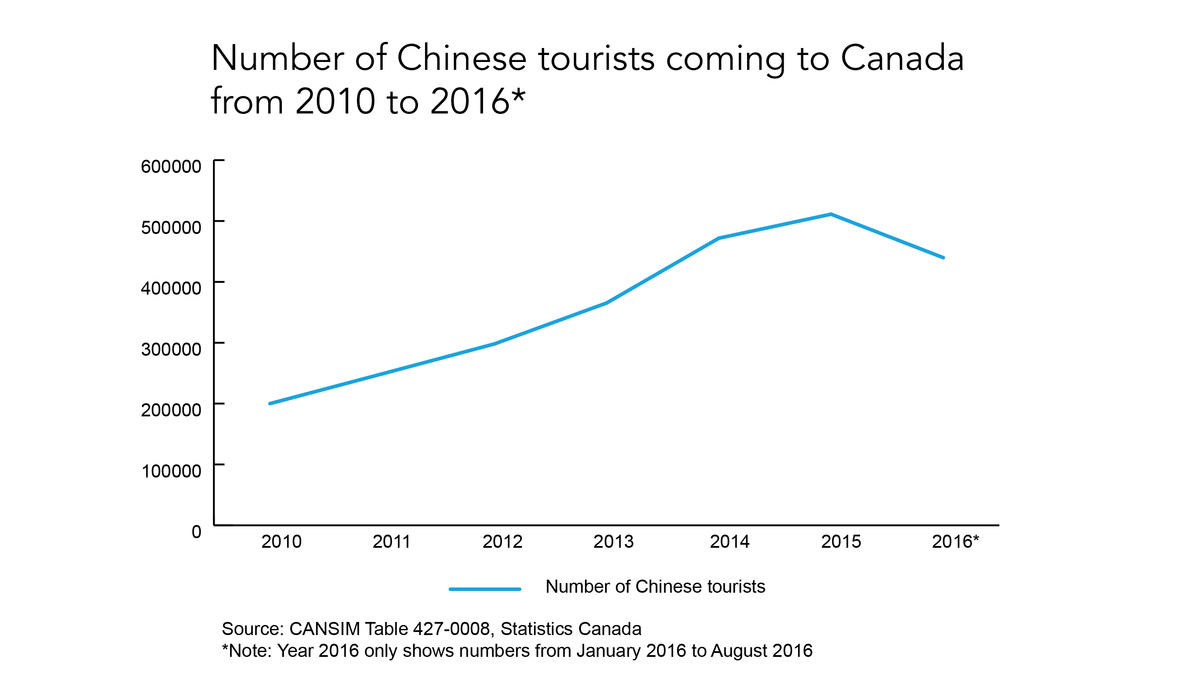 Government and Transportation Services
Looking across the Pacific, China provided close to 60 per cent of its services to Canada in 2013 in government and transportation services. Government services refer to transactions arriving from official representation and military activities in a foreign country, whereas transportation services include revenues and expenses from the transportation of goods or people across international borders.
The improvement in Canada-China diplomatic relations and the various commercial and people-to-people agreements made in September between Prime Minister Justin Trudeau and Premier Li are sure to encourage more diplomatic visits, trade, and tourists. This will subsequently increase government and transportation services between the two countries and bring opportunities to Canadian and Chinese service providers.
Commercial Services
Commercial services so far bring the least profit for two-way trade in services, but hold much potential for both Canada and China. Commercial services include international services transactions, such as financial, advertising, cultural, and architectural and engineering services.
At a glance, one of the most significant reasons for such low Canada-China two-way trade in commercial services is the difference in languages. Especially for commercial services, having a working knowledge of the language is essential to exchange ideas and expertise. This may seem like a barrier preventing service providers from collaborating, but Canada is lucky compared to other countries because of its strong people-to-people ties with China. Over the period of 2000 to 2014, almost half a million Chinese immigrants came to Canada and in 2014 alone, more than 60,000 Chinese came to Canada as international students. These people, as well as the 1.3 million Canadians of Chinese origin, have the necessary language skills, cultural understanding, and networks, and are extremely useful for Canadian service providers hoping to export their services to China.
With China putting more emphasis on a green economy and its comprehensive Belt Road Initiative aiming to connect major Eurasian economies through infrastructure, trade and investment, China's demand for professional services in finance, legal counselling, and engineering will grow immensely. Moreover, the Chinese government will increase policy support for the development of elder care, education and sports services. Fortunately, Canada can provide the expertise needed by China in all of these sectors.
As relations continue to improve between Canada and China, the opportunities available to Canadian and Chinese service providers will also continue to open up. A free trade agreement with China may also increase two-way service trade between the two countries – especially if chapters on trade in services are included – and at the same time, may help balance the huge trade deficit that Canada has with China. Now is the perfect time for Canada to encourage more two-way trade in services with China.