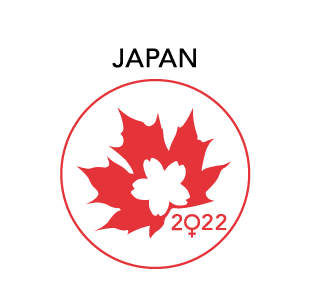 APF Canada, with strong support from the public and private sectors, will lead the Second Canadian Women-only Business Mission to Japan (In-person), from December 5 to 9, 2022. 
This mission will focus on health care and clean technologies to spotlight the innovations Canadian women entrepreneurs bring to these sectors. The sixth mission in APF Canada's Women's Business Missions to Asia series, this unique event brings together Canadian women entrepreneurs with businesses in Japan to promote gender-inclusive trade, support small and medium-sized enterprises (SMEs) and catalyze international partnerships between Canadian companies and a key market in the Indo-Pacific region and the largest economy in the Comprehensive and Progressive Agreement for the Trans-Pacific Partnership (CPTPP). 
The Second Canadian Women-only Business Mission to Japan is generously supported by contributions from the Government of Canada through the Federal Economic Development Agency for Southern Ontario. 
A Message from the Right Hon. Justin Trudeau, Prime Minister of Canada
Mission Brochures:
Delegate Pitch Videos
Mission Details: 
WHERE: Japan 
FORMAT: In-person 
WHAT: The mission will feature a public conference with high-level speakers from Canada and Japan to discuss issues of bilateral trade, gender inclusion in the economy with the goal of women's economic advancement, and SME supports. The delegates will participate in personalized business-to-business (B2B) matchmaking, exhibitor space, company pitches, and networking opportunities with conference attendees.  
WHEN: December 5-9, 2022 
WHO: We encourage all women and non-binary entrepreneurs whose businesses align with the targeted sectors of this mission to apply. We especially welcome applicants from traditionally under-represented groups, such as (but not limited to) members of racialized and Indigenous communities, people with disabilities, LGBTQ2S+ folks, newcomers to Canada, and young entrepreneurs. Due to the limited delegate spots available, the selection process is competitive, and not all eligible applications can be accepted.  
WHY:   
Japan ranks amongst the safest, most advanced, and most prosperous economies in the world. With world-class advantages in the fields of technological innovation, health care, and environmental solutions, Japan's modern economy is home to both market-shaping industry leaders and diverse entrepreneurial ecosystems. Supported by a vibrant culture of art and innovation, Japan also boasts some of the world's most creative start-ups, SMEs, incubators and accelerators, and supportive institutions. For Canadian entrepreneurs looking to take the next step through international collaborations and partnerships, Japan represents an opportunity to build new bridges across the Pacific.   
Potential opportunities for Canadian women in clean tech and healthcare are not limited to prospective partnerships. Ample demand exists for Canadian companies looking to market their products abroad. As beneficiaries of the Comprehensive and Progressive Agreement for the Trans-Pacific Partnership, Canadian businesses enjoy preferential access to Japan's highly lucrative consumer markets. These advantages are bolstered by Japan's recent commitments to achieving carbon neutrality by 2050 and the country's decades-long dedication to providing a safe and supportive environment for the world's most elderly population.  
In terms of specialization, Canadian women working in clean tech and health care excel in producing goods and services that meet a wide range of modern Japanese market demands. Among these goods and services are clean energy and carbon capture solutions, circular economy solutions, emissions reduction technologies, medical devices, and eldercare solutions. Japan's population continues to age and Japanese consumers continue to confront new environmental pressures — connecting with innovative firms and solutions that can help preserve quality of life is increasingly important. As the world re-opens in the wake of the COVID-19 pandemic, APF Canada's women-only business mission to Japan could not be better timed to help Canadian entrepreneurs explore new opportunities in a key partner economy in the Pacific.   
OBJECTIVES: 
To mutually showcase Canada's and Japan's technology innovations in health tech and clean tech

To provide networking opportunities for Canadian women in business with counterparts in Japan 

To provide an opportunity to share insights and best practices on women's economic advancement   

To facilitate business partnerships between delegates and Japanese counterparts 
BENEFITS:  Individualized B2B matching, curated networking, and promotional opportunities.  There is no fee to participate as a delegate. This program is generously funded by the Government of Canada's Women Entrepreneurship Strategy. 
Expenses covered by the program:
Round-trip economy class airfare to/from Japan
Airport tax and facility fees
Accommodation, ground transportation between official program events and locations, and meals during the official program in Japan
Admission fees for scheduled activities in Japan which are part of the official program 
The following expenses are not covered by the program:
Travel between the participant's home and the designated airport of origin, and any excess baggage fees incurred during the program
Overseas travel insurance — participants shall be responsible for their own medical expenses in Japan
Loss or damage to personal belongings 
Please note: Participants are responsible for all personal expenses, including passport, vaccination, travel to/from the designated Canadian airport, accommodation and meals in Canada, and purchase of personal items/souvenirs prior to or during the program. 
COMMITMENTS: Successful applicants will be required to participate in all components of the mission including: 
Pre-mission training meeting(s)
All scheduled B2B meetings
The public conference program
Other official program events as scheduled by the organizer 
SELECTION CRITERIA: 
Eligible applicants must operate:
•    A for-profit organization such as: 
An individually operated business
A partnership
A social enterprise
An incorporated company, corporation or co-operative, and
An Indigenous organization 
•    A women-owned and/or women-led business*​​​​
•   A small to medium-sized enterprise (SME) with fewer than 500 employees, and 
•    A business in operation for a minimum of two years
Eligible businesses must
Be export-ready and have demonstrated potential to succeed in Asian markets
Have a commercialized product or service or one close to being commercialized
Have conducted research on foreign markets and opportunities, especially preparatory work concerning the Japanese market
Have allocated resources (human, material, time and financial) toward internationalization
Have a defined business model and financial forecasts (1-2 years) for discussions with potential third-party investors 
 The following are ineligible: 
•    Not-for-profit organizations, and 
•    Government entities 
Priority will be given to entrepreneurs who: 
Have generated revenues (sales, capital investment, etc.) exceeding C$100,000 per year for the past three years
Have made efforts to localize their product or service for an international market (not necessarily in Asia)
Have developed proprietary technology with the potential for long-term competitiveness
Are defining their primary product/market fit and establishing reasonable pricing models with a sales strategy/pipeline 
* For the purposes of this program, please note:
"Women" is inclusive of those who self-identify as women (including ciswomen or transwomen) or gender non-binary, gender-fluid or gender nonconforming people. "Ciswomen" refers to someone whose gender corresponds to their assigned sex.
"Women-owned" is defined as an enterprise where one or more women own and have owned the majority of the company (more than 50%) for at least two years.
"Women-led" indicates an enterprise with at least one woman founder, co-founder or in an executive position who, for at least two years, has ownership in the company and has been in a position to control and manage the operation and daily business of the entity and plays an active role in strategic decision making. "Active role in strategic decision making" indicates said woman is involved in decision-making relating to the establishment of priorities, objectives and goals for the overall operations of the business.   
For mission inquiries, please contact: 
  
A.W. Lee, PhD 
Senior Program Manager 
Diversity and Inclusive Growth Strategy for 
Women Entrepreneurs in the Asia Pacific 
Asia Pacific Foundation of Canada, Toronto 
205-375 University Ave. 
Toronto, Ontario, Canada M5G 2J5 
a.w.lee@asiapacific.ca
View Photos from our Business Mission to Japan