For more than 10 years, the Asia Pacific Foundation of Canada's National Opinion Poll has examined Canadian opinion and attitudes towards Canada's engagement with Asia. This year, APF Canada commissioned EKOS to conduct the survey of 1,548 Canadians and focused on attitudes towards Asian investment in Canada. We found that Canadians are cautiously optimistic about the benefits of direct foreign investment from Asia. Key findings include:
Canadians Are Open to Investment from Asia
Canadians are generally supportive of investment from Asia. A majority expressed positive views of investment from Japan (78%), South Korea (67%) and India (59%). This is comparable to Canadians' favourable views on investment from the United States (77%), Canada's largest source of foreign direct investment.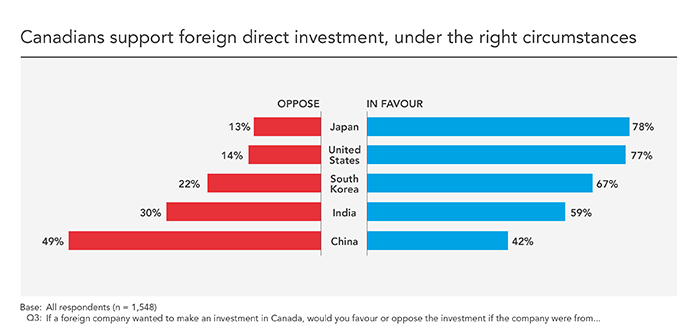 Only in the case of China are opinions more mixed, with two-fifths (42%) being favourable to Chinese investment and half (49%) expressing opposition. Chinese investment in Canada has been a contentious topic recently, but, despite the controversies, many Canadians remain open to the potential benefits. There are, nonetheless, characteristics that often accompany Chinese foreign investment—such as the involvement of state-owned enterprises and the concentration in the resource sector—about which the Canadian public remains skeptical.
Canadians Have Concerns About the Influence of the World's Two Largest Powers
Canadians worry that investment from global powers like China and the United States will lead to a loss of control over our natural resources. Almost half (48%) of Canadians associate Chinese investment with the phrase "loss of control over our resources," and two-fifths (42%) associate the same phrase with investment from the United States. Concern about losing control of resources is the term or phrase Canadians most strongly associate with investment from both countries. Canadians are also most likely to say the government lets in "too much" investment when asked about the world's two largest economies, though this response was much more common in relation to China (56%) than the United States (28%). By comparison, one-tenth (10%) of Canadians express a similar concern about Japan.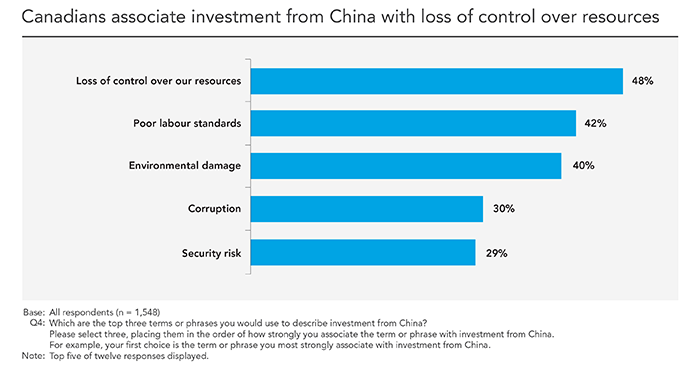 Canadians Overestimate the Extent of Chinese Investment in the Country
Canadians have a more accurate perception of how much of Canada's foreign direct investment comes from countries like the United States, Japan, India, and South Korea than from China. Canadians estimate that companies from China own one-quarter (25%) of all foreign direct investment in Canada, while the official figure is closer to 3%. This misperception is likely driven in part by the recent increase in Chinese investment, the value of which jumped from C$0.2 billion to C$20.4 billion between 2003 and 2013. Canadians who significantly overestimate the extent of Chinese ownership in the Canadian economy are also more likely to say Canada has allowed "too much" investment from China to enter the country.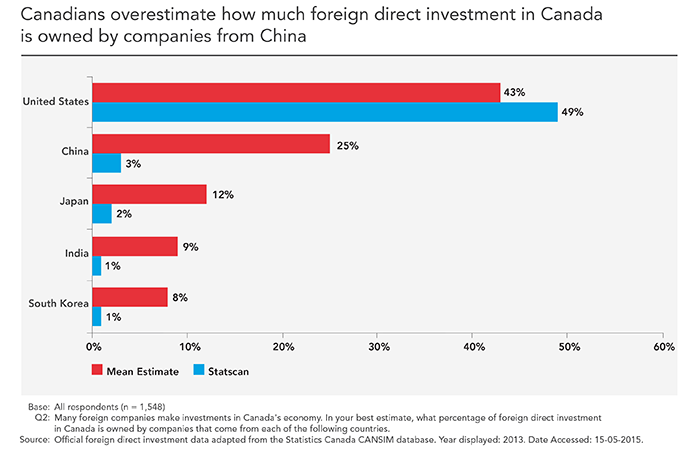 Canadians Have an Accurate Understanding of Investment Rules and Practices
It would be a mistake to dismiss Canadians' concerns about Asian investment as merely misinformed opinion. Beyond the over-estimation of Chinese investment, there is little evidence to suggest Canadians are significantly misinformed about investment rules and practices in their country. A majority of Canadians know that foreign companies are subject to Canadian laws and regulations (75%), that the federal government plays a role in approving large foreign investments (69%), and that the majority of Chinese investment is concentrated in the resource sector (54%). Close to half of Canadians (48%) also rejects as false the notion that foreign-owned companies pay their Canadian workers less than Canadian-owned companies. Canadians' information about foreign investment—or at least their intuitions about rules and practices—is relatively accurate and favourably disposed toward the potential benefits of foreign companies investing in Canada.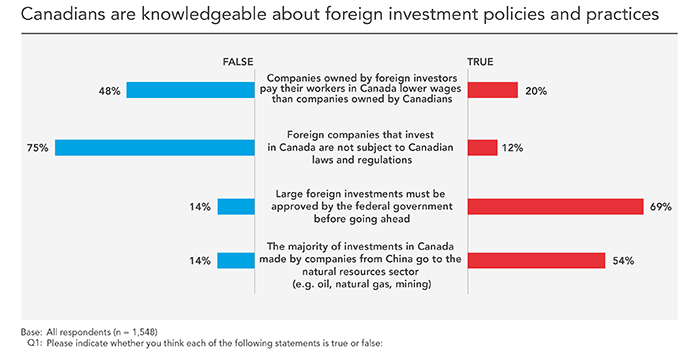 Canadians most informed about foreign investment rules and practices tend to be those who are also most supportive of investment from Asian countries. However, the most informed Canadians have particular concerns about China. For example, Canadians with the most accurate understanding of our country's investment rules and practices are also those most likely to associate investment from China with the term "security risk." This tends to weaken their support for investment from China compared to other countries.
Canadians' Views on Foreign Investment Are Shaped by Perceptions of Investing Countries
Canadians do not always disentangle their attitudes about foreign investment from their attitudes toward particular countries. This is particularly true in the case of China. Although most Canadians recognize that foreign companies operating in Canada abide by domestic laws and practices, they still associate investments from China with terms like "environmental damage" and "poor labour standards." This suggests many Canadians may not be worried about how Chinese investors behave in Canada as how Chinese companies behave in China.
This presents a challenge for Chinese companies operating in Canada. Significant investment in Canada by Chinese companies is a relatively recent phenomenon. Chinese investors in Canada do not yet have a visible and established track record of contributing to the country that could be used to counter the skeptical attitudes many Canadians have toward China in general. Barring significant socio-political change in China, Canadians are only likely to warm to Chinese investment if they see Chinese companies making a positive contribution to Canada.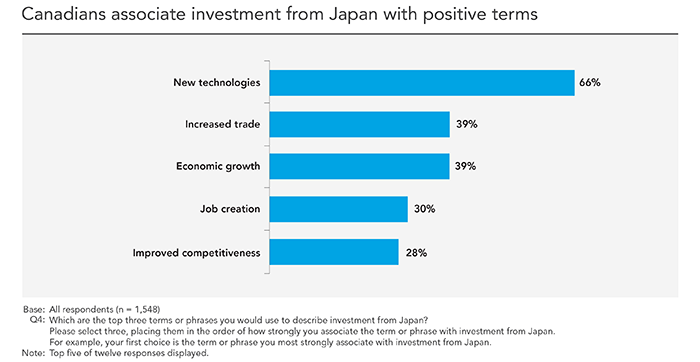 There is some precedent for the significant evolution of Canadian views toward investment from Asian countries. Almost two-thirds of Canadians (65%) mention "new technologies" as a key term they associate with Japanese investment, a country that was once associated with inferior, low-end products. Canadian consumption of Japanese high-tech products, along with positive contributions by Japan to Canada's economy like the construction of state-of-the-art car manufacturing facilities, also likely play a role in shaping perceptions of investment from Japan. With time, it is likely that Canadian attitudes toward Chinese investment will evolve. In this regard, early Chinese investors in Canada have a special role and responsibility to facilitate this evolution by contributing to a positive legacy.